Beckman: Under the Influence - the early years 1988-1990
15 songs taken from the first two albums (Let Me Down Easy and These Boots) recorded by guitarist/singer/songwriter Thad Beckman. There's plenty of funky grooves, slow blues, ballads and even a few country songs from this noted artist's early years.
Buy the Album at CDBaby
Me Talking To Me
"Beckman plays an engaging blend of folk, singer-songwriter and blues music. Not everyone can pull off such a combination, but Beckman has chops, writing talent, a big personality and a bag full of true stories."
--Jim Beal, San Antonio Express-News
_
Beckman
"Beckman," features a potent mixture of roots blues, country and folk. And Beckman does know how to make the combination work." -- Jim Beal Jr., San Antonio Express-News
_
Carry Me Back
"Thad Beckman covers a fair amount of territory on Carry Me Back, taking his accomplished guitar and sincere voice and tackling tunes from bounce to blues, from Delightful Ditties to Deep Brooding Ballads. Solid stuff from a good songwriter." -- Jay Hardwig, The Austin Chronicle
_
The Beckman Method (Book & CD)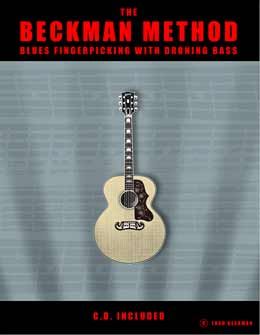 The Beckman Method is designed to help you learn to accompany yourself using a droning bass while soloing.  Each exercise introduces you to new ideas and feels.  Once you have finished learning all ten exercises (all in the key
of "E" with accompanying CD) you will have plenty of vocabulary (licks) to experiment with and to create your own solos.
Previous events
Guest artist with Ex-Nashville Cats John Bunzow and Denny Bixbu
Acoustic roots and blues and original songs